Improved Productivity opener
E-Commerce consumers who expect their order to be processed within 24 hours. The right solutions can handle that demand without adding extra labor.
We create systems and solutions that don't just work faster, they work smarter.
Driven by data-intelligence and optimized to reduce time, effort and waste, our solutions can increase throughput and decrease total costs. We seek to improve packaging speeds, improve packaging performance and produce easy to use designs. We introduce ideas for better packaging!
Situation
SITUATION
An E-Commerce distribution company was not able to keep up with growing sales. It had 15 individual packaging work cells. It used kraft paper rolls as its only void fill material and used water-activated tape to close the carton. The process was slow and the only way to meet increased production demands was to add more people and more work cells.
Solution
SOLUTION
The customer changed from an individual work cell production format to an in line production flow utilizing conveyor systems. It also implemented the use of on demand, inflated air bag packaging instead of rolls of paper handled manually. And it installed in line pressure sensitive tape carton sealing to eliminate the manual taping process.
Result
RESULT
The switch to a more streamlined process reduced packaging material costs by 25% and led to a 30% improvement in labor efficiencies. The company was able to reallocate manpower to the picking process and was able to adapt to the demands of peak shipping seasons and same day shipping objectives. And the overall average package weight decreased with the elimination of paper, leading to further savings in shipping costs.
image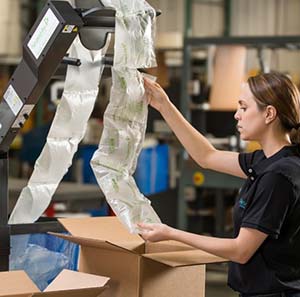 IP Jetstream
Jetstream Delivery System
IP Orion Sentry Semi Automatic Stretch Wrapper
Orion Sentry Stretch Wrapper